AVAILABLE ADULTS!
If interested in an available pup or dog, keep in mind that until you give me a definate comittment to purchase the dog, it is still on the market and could sell at any time. "I'm Interested" is not a solid comittment.
Like us on Facebook: STRAWBERRY RIVER KENNEL
If you see something you want more info on, email me at Strawberryriverkennel@yahoo.com or call 870-847-5715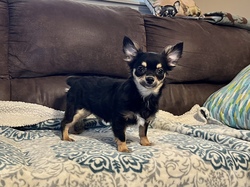 CHAMPION SIRED black/tan CHOCOLATE CARRIER *** This is an adorable champion sired River/Shemar long coat boy born 10/12/22. Shots and worming up to date. Testing shows he's a chocolate carrier, his full sibling is chocolate. His sire is Embarked clear and OFA excellent.
4.5 lbs at 7 months, no further weight gain in the past month, he's actually lost a lot of baby fat. Greatly reduced to $1500 pet, $2000 full AKC. Dog door trained. Kid and adult friendly!