LIKE US ON FACEBOOK: STRAWBERRY RIVER KENNEL
SCROLL DOWN TO SEE AVAILABLE PUPPIES BELOW. Upcoming Litters are on a page by that name.
WE DO NOT SHIP OUR CHIHUAHUA PUPS IN ANY WAY, SHAPE, OR FORM! we will send adult chihuahuas by van pet transport or pet nanny. No air cargo shipping.
CHIHUAHUAS: All our puppies are AKC champion sired and all the dams are also champion pedigreed. $2500 to $3500.
GO TO GUARANTEE PAGE TO READ ALL THE TERMS BEFORE PUTTING DOWN A DEPOSIT!
All my puppies are on NUVET PET VITAMINS before they go to new homes, order at this link. http://www.nuvet.com/45641
EMAIL: Strawberryriverkennel@yahoo.com or call/text 870-847-5715 ** CLICK ON PICS BELOW TO ENLARGE!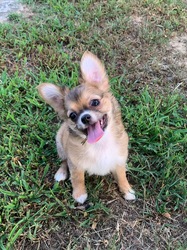 Long coat champion sired female, expected 6.5 lbs grown. $2750 pet, $3250 show or breeding. Ready to go, 10 weeks on 6/15.